Scarthin Blog
Blogs are a book's best friend ~ Simon Marshall: Wednesday bookseller, resident top-shelf reacher
Our first installment in a regular update on recent titles, golden oldies and Scarthin quirks and curiosities.
Summer, 2019.
Connection (and why we love being told how weird things went)
In a world that is constantly telling us we are at our most connected and yet disconnected, it can be hard to know where you stand.
What your self is. What your tastes are – whether they should be following a certain trend or uproar, what your principles are – how quickly you should compromise or re-educate yourself, how  you intend to ferry yourself about in an environment where mistakes don't often go unnoticed but the potential to misstep is all around.
Out of this chaos, has emerged a real resurgence in autobiographical work, in memoirs and handbooks, in individuals attempting to not only navigate difficult circumstances, but say 'this is the path I took – it might help you too!'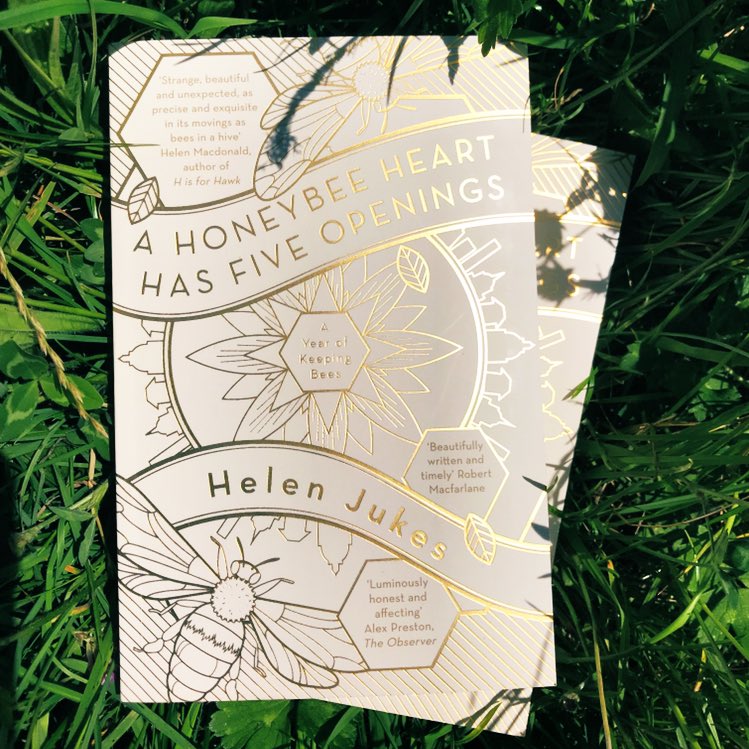 One strong component of this has been the strand of work on how the environment has helped bring people back to the present. A review penned by Alex Preston of 'A Honeybee Heart Has Five Openings' by Helen Jukes (an author newly moved to the Midlands and lovingly stocked at Scarthin Books) commented that this originated in the success of the 2014 memoir 'H is for Hawk':
'Macdonald's H Is for Hawk established something new – the use of nature as the dominant vehicle for our autopathography. The nature-cure narrative replaced the misery memoir as the principal medium through which we communicated our discontents, and it felt like the bookshops were suddenly full of books charting recoveries – whether by tending tulips or watching wolves.'
And they are correct! We have an incredible selection of books, both new and second-hand where discovering a unique, often decidedly analogue and rural hobby – be that beekeeping, flower-arranging, birdwatching or wild-swimming – has had a profound impact on well-being, self-esteem and outlook. Hampstead's Ladies Pond has become so successful in recent years it now has its own collection of essays from beloved fans 'At the Pond: Swimming at the Hampstead's Ladies Pond' – with contributions by acclaimed writers Margaret Drabble and Esther Freud.
In Johann Hari's 'Lost Connections' he argues that a core reason for higher rates of anxiety and depression in today's population is a disconnection from the principles that have always been essential to human survival and betterment. Environment is one of the named factors that modern life discourages us from paying close attention to – so it seems understandable that feeling as though we as individuals can have a positive impact and presence in either the lives of other creatures, or plants, or indeed whole ecosystems would inspire good feeling and motivate us to change our own lives for the better too.
Purpose and meaningful work is another identified strand essential to feeling fulfilled. The fascination with occupations that are unique and exciting is not a new phenomenon – it is what has inspired everything from police dramas to Keeping Up With The Kardashians (exciting could be slightly generous here) – but books that bring us closer to these stories, where it feels like you are immersed in the work too, offer a hugely rewarding read today. 'This Is Going To Hurt' by Adam Kay and 'When Breath Becomes Air' by Paul Kalanithi give detailed, personal and often uncomfortable insight into working in medicine; 'First Man In' by Ant Middleton is a brutal take on training with the SAS. These occupations draw the reader close to vital situations, life and death, right and wrong – and so prove absorbing and galvanising reads in times of widespread uncertainty. 'Becoming' by Michelle Obama sheds light on the most idiosyncratic job in the world – life inside the White House… but when that seemed a desirable, empowering place to be.
When interviewing fellow Scarthin Books Staff members on why reading matters to them, many shared the opinion of reading as 'an escape' – but perhaps at the moment it is reading about escape (through nature or pastime) or radical change in circumstance (work or relocation) that best helps us return to ourselves, clearer, kinder and more inspired. Having myself recently finished 'The Year of Living Danishly' by Helen Russell – reading of the change she underwent in her year adjusting to Denmark's quirks, cold and characters felt palpable and near, because she cared that you were her reader, and sharing the journey with her. She was actively guiding you from a place of confusion to a place of understanding.
Perhaps the paths we choose, hazardous or unfamiliar as they may be, need not be trod alone – there's a hundred outstretched hands behind a hundred book covers, saying 'like this' or 'this' or 'this' or 'this'…
Books mentioned (and where to find them):
'A Honeybee Heart Has Five Openings' by Helen Jukes – New Releases (Ground Floor)
'H is for Hawk' by Helen Macdonald – Second-hand Biography (Ground Floor)
'At The Pond: Swimming at Hampstead's Ladies Pond' by Margaret Drabble (Available to order at the front desk)
'Lost Connections' by Johann Hari – Philosophy (Top Floor)
'This Is Going To Hurt' by Adam Kay – Second hand Biography (Ground Floor)
'When Breath Becomes Air' by Paul Kalanithi – Biography (Ground Floor)
'First Man In' by Ant Middleton – New Releases (Ground Floor)
'Becoming' by Michelle Obama – New Releases (Ground Floor)
'The Year of Living Danishly' by Helen Russell – Philosophy (Top Floor)