Reviews 7 – 10 Years
 _ _ _ _ _ _ _ _ _ _ _ _ _ _ _ _ _ _ _ _ _ _ _ _ _ _ _ _ _ _ _ _ _ _ _ _
The Ice Monster | David Walliams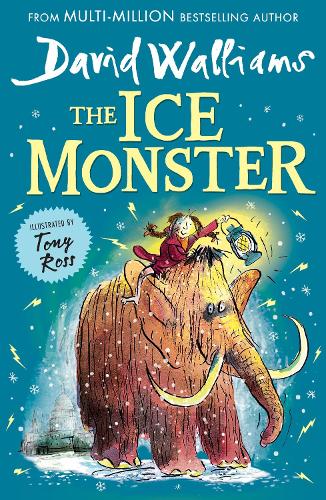 Reviewed by Kaya Litherland, age 10
Meet Elsie: she is a homeless orphan in Victorian times, and lives in Wormly Hall, run by Mrs Curdle.
Elsie runs away and hides in The Natural History Museum. There she meets Woolly the Mammoth and brings him back to life, with the help of Dotty, her friend the cleaning lady, and Professor, the evil professor. They also meet Titch, Dotty's boyfriend, with many 'Hoo!'s and Botty Burps along the way.
They then steal a ship (the HMS Victory) and sail to the Arctic. Along their journey, Titch learns how to shoot a target as big as a cupboard, and Admiral finds that using his wooden leg as a weapon does not 'come in handy' or leggy, as the case may be.
But if they find Woolly's family, can Elsie really continue to keep him as a pet? Where is home for Elsie? Could it have something to do with the twenty-five other orphans hidden at Buckingham Palace?
David Walliams is an amazing author, and can turn anything into an exciting laugh-out-loud story. More of his books include The Midnight Gang, Gangsta Granny and Awful Auntie. They are now published in fifty-three languages!!
_ _ _ _ _ _ _ _ _ _ _ _ _ _ _ _ _ _ _ _ _ _ _ _ _ _ _ _ _ _ _ _ _ _ _ _
Hero 41: The Eye of the Gargoyle | Sam Penant
Reviewed by James Singleton, age 10
When Dax Daley is sent to a special boarding school (because he apparently has a
special gene) people don't seem to be expecting him.
The school had 40 places and Dax is Hero 41. Luckily Dax is allowed to stay, but will he want to after he discovers the dark secrets Scragmoor Prime hides?
With help from his new friends, Cat and Speechless, Dax must investigate the
creepy gargoyle on the roof of Scragmoor Prime. Will Dax ever find a way to fit in
and save the school, or will he die like many prisoners before him in the cursed
building?
There's only one problem Dax doesn't have any superpowers… or does he?
I think that people 9-13 will love the sensational way Sam Penant brings characters
to life.
This book is 5 star standard and an incredible page turner. 
_ _ _ _ _ _ _ _ _ _ _ _ _ _ _ _ _ _ _ _ _ _ _ _ _ _ _ _ _ _ _ _ _ _ _ _
The Wizards of Once: Knock Three Times | Cressida Cowell
Reviewed by Kaya Litherland, age 10
Cressida Cowell follows her hugely successful 'How To Train Your Dragon' series with amazing characters and even better illustrations.
Knock Three Times has three main characters, all children, called Xar, Wish and Bodkin.
This book is the Iron Age, and Wizards and Warriors just DO NOT MIX. No buts. They completely
hate each other and try and keep to their side of the forest.
However, here, there is some breaking of the rules.
Xar is a Wizard and Wish and Bodkin are Warriors. But Wish is
Magic. And Xar was not. Until, of course, he went and found some
witch blood, and cut his hand with it. Then he had the wrong type of
Magic, a type of Magic that was punishable by being expelled from
the tribe, if the chief is soft, and death if he isn't.
Now all three of them are on the run. Running from Encanzo, Xar's father.
Running from Sychorax, Wish's mother and Bodkin's employer.
Running from the Witches, who are bad Magic, and would kill Xar
and Bodkin, and steal Wish's odd Magic-That-Works-on-Iron. Iron is the only thing Magic will not work on and the Witches want it.
I love this series and I would say that any child
who does not read this book, or indeed the whole series, is missing
out on a huge literary enjoyment.
This new series is a world of Magic and a must read for anyone 7-11 years old.
_ _ _ _ _ _ _ _ _ _ _ _ _ _ _ _ _ _ _ _ _ _ _ _ _ _ _ _ _ _ _ _ _ _ _ _
The Legend of Podkin One-Ear | Kieran Larwood
Reviewed by Alexander Johnston, age 10
I didn't know anything about this book before I read it. I picked it up because the cover looked interesting, although this doesn't always mean it's a good story! But in this case, it is a great book.
It is a tense and exciting story of a magical quest of bravery and adventure, with unexpected twists.
The book begins with a warren of rabbits listening to a storyteller telling the legend of the rabbit Podkin One Ear. With interludes about the audience's reactions to the tale, the whole book is the telling of the legend.
My favourite character is Paz, the older sister of Podkin One Ear. She is smart and quick witted, and is usually the one coming up with a plan. Paz, Podkin and their younger brother Pook have to escape and defeat the mutant rabbit race of the Gorm.
I felt that the way in which the story was written made you feel that you were there, it was really gripping and the illustrations were detailed and pictured it well – it made you feel like you were in the action.
There were always twists and unexpected turns in every chapter – you could never tell what was coming. I thoroughly enjoyed this book, I would say my favourite part was where they sneak into the Gorm's camp. I was always just wanting to read the next little bit; it was very hard to put down.
Luckily, even though I picked it up by chance, this happened to be the first one in the 'Five Realms' series. There are two more, and I can't wait to read them.
The recommended reading age is 9-11, but I think that it would suit both boys and girls from the age 10-12.
Sometimes you can tell a good book from it's cover…
_ _ _ _ _ _ _ _ _ _ _ _ _ _ _ _ _ _ _ _ _ _ _ _ _ _ _ _ _ _ _ _ _ _ _ _
Nevermoor: The Trials of Morrigan Crow | Jessica Townsend
Reviewed by Alexander Johnston, age 10
The book is about a girl called Morrigan Crow, who is cursed to die on her eleventh birthday.
But on the eve of her birthday, when the clock strikes midnight, she is whisked away by an intriguing man called Jupiter North, and she is taken to a secret city called Nevermoor.
When she arrives at Nevermoor, she really likes it, because she makes friends and can be happy. Back at home, everyone hated her because they thought that whenever anything bad happened it was her fault, because she was cursed. She's invited to join the Wundrous Society, but first she has to pass four near impossible tasks.
My favourite character is Fenestra. She is a giant cat, who is a bit bigger than Morrigan. I like her because of the way she is always complaining and annoyed, but grudgingly helps Morrigan with all the tasks.
The story feels like it must have really happened because the characters are so believable. You always want Morrigan to succeed.
Whenever you're expecting something to happen, the story takes a different turn, and I think that that adds to the feeling that it's real.
My favourite part of the book is the third task, because it feels like you're there. The race to complete the penultimate task is fast-paced, and vividly written.
There are more books after this one (Wundersmith: The Calling of Morrigan Crow, and Hollowpox: The Hunt for Morrigan Crow), but definitely start with this one.
I recommend this book to both boys and girls from about nine years and over, but you will
like it more if you like reading magical stories.
_ _ _ _ _ _ _ _ _ _ _ _ _ _ _ _ _ _ _ _ _ _ _ _ _ _ _ _ _ _ _ _ _ _ _ _
The Red Pyramid (The Kane Chronicles Book 1) | Rick Riordan
Reviewed by James Singleton, age 10
This incredible book stars Carter and Sadie Kane.
It started one night when Sadie and Carter were taken by their Dad to the National History Museum.
Their Dad tells them to wait outside the door to the gallery where the Rosetta Stone is held. They are obediently standing there when they see blue light shining out from under the door. Sadie opens it just in time to see the Rosetta stone blow up and their Dad (captured in a beautiful stone coffin covered in gems) sink through the floor.
A few days later they are taken by their Uncle Amos to his family mansion where they discover secrets from their past so terrifying it would not be in their worst nightmares.
With the help of Bast, Zia and Uncle Amos, will they survive scorpions, crocodiles, a collapsing pyramid and a trip to the underworld?
This is an amazing book full of twists, mysteries and lots of humour. I recommend this book for anyone aged eight plus.
_ _ _ _ _ _ _ _ _ _ _ _ _ _ _ _ _ _ _ _ _ _ _ _ _ _ _ _ _ _ _ _ _ _ _ _ _
The Creakers | Tom Fletcher

Review by Izzy Neave, age 9
This book is about a girl named Lucy Dungston who must set out on a mission to find the grown-ups which mysteriously disappeared overnight! Without them, the city of Wiffington is in destruction by children somehow painting themselves purple and hanging toilet paper on their houses! Even letting a shark into the pool and getting stuck in sweet jars and shops!  But this mission includes capturing the strange creatures that live right under Lucy's bed and taking to the world beyond! Will Lucy be able to get the lost grown-ups before the whole of Whiffington is wrecked? If you want to know a little bit more then you will have to read the whole book.
This amazing book is very funny and entertaining and is perfect for the whole family. I would rate it ten out of ten and I would say that the age group should be about seven to eleven.
_ _ _ _ _ _ _ _ _ _ _ _ _ _ _ _ _ _ _ _ _ _ _ _ _ _ _ _ _ _ _ _
The Monstrous Child | Francesca Simon
Review by Jamie Kitchen, age 9
This book is perfect for ages 7+. I really enjoyed reading it. If you like storys involving gods ,good and evil then this book is for you. It is about the gods of Asgard and a goddess named Hell. She is destined to recreate the world in a better way but first she must defeat the gods with her brothers. Only then can she recreate the world and make it better than before.
I love this book because it has a lot of drama in it. It is written in the first person- which I liked. There was an exciting climax and real sense of danger throughout. It is an amazing book. Personally, I think reading is the best way of finding joy in life. I would give it a 5 star rating. It is one of the best book I have ever read in my 9 years of reading things.
_ _ _ _ _ _ _ _ _ _ _ _ _ _ _ _ _ _ _ _ _ _ _ _ _ _ _ _ _ _ _ _ _ _ _ _ _ _ _ _ _ _
The Invention of Hugo Cabret | Brian Selznick

Review by Grace SV, age 10
The Invention of Hugo Cabret is about a boy who works the clocks in the train station (which is in Paris). His father is a clock – maker who has his own clock shop. One day his father came home late and told Hugo (his son) what he had discovered in the attic of the museum (it was a broken automaton). Hugo begged him to fix it, so one night his father sneaked into the attic of the museum to fix the automaton when that night the museum set on fire and his father died because he was locked in the attic. After his father's death his uncle began to look after him when he went missing about 1 week later. Hugo had no one to look after him until the day he met Papa George.
I like this book because it is quite dramatic, heart – warming and when you start reading it you can't put it down. Even though the book looks big most of it is pictures.
I would recommend this book for boys and girls and 9 to 12 year olds.
I would rate this book 5 out of 5.
_ _ _ _ _ _ _ _ _ _ _ _ _ _ _ _ _ _ _ _ _ _ _ _ _ _ _ _ _ _ _ _ _ _ _ _ _
Fish Boy  | Chloe Daykin
Review by Poppy Morris, age 10

This book is a bit unusual but enjoyable.
"His skin goes up and down like the waves."
It is about a boy – fish boy – Billy who couldn't be
happy away from the sea; he loves to swim. He is
just an (almost) ordinary boy. His mum has an
illness which seems to be a mystery, meaning
Billy's dad works long hours – life is not easy at
home or school. At school, poor Billy is getting
bullied but then a new boy starts…
I recommend this book for age 9-11 years,
especially boys.
_ _ _ _ _ _ _ _ _ _ _ _ _ _ _ _ _ _ _ _ _ _ _ _ _ _ _ _ _ _ _ _ _ _ _
Coraline  | Neil Gaiman

Review by Hugh Morris, age 9

This is a very exciting and scary book. Coraline is not a girl put off by danger signs in some tea leaves or by very clever singing mice from the crazy man upstairs. This means that she finds herself trapped on the wrong side of a door and is trying to get back to the real world.
This book is very exciting but it does plummet in excitement at the end.
I recommend this book for 10-12 year olds.
_ _ _ _ _ _ _ _ _ _ _ _ _ _ _ _ _ _ _ _ _ _ _ _ _ _ _ _ _ _ _ _ _ _ _ _ _ _ _ _ _
Fish Boy  | Chloe Daykin

Review by Daisy Edwards, age 12

Billy, a young boy finds sanctuary in the sea. An escape from the world, from his mum's mysterious illness, from Jaime Watts, from his dad's extra hours. From reality.
One day when Billy is swimming in the sea he has a rare encounter with a mackerel who just seems to "understand" him. But who is this mackerel? What does it mean? What does it want with Billy?
This book would be good for children aged 11-13 because it is a bit confusing but I would definitely recommend reading this.
_ _ _ _ _ _ _ _ _ _ _ _ _ _ _ _ _ _ _ _ _ _ _ _ _ _ _ _ _ _ _ _ _ _ _ _ _ _ _ _ _ _ _ _ _ _ _ _  _ _ _
Fish Boy  | Chloe Daykin

Review by Jamie Kitchen, age 8
The super descriptions in this magical fantasy adventure book show me a kind, sad and wise boy named Fish Boy (aka Billy). A mysterious illness descends on Fish Boy's mother like a shadow; who knows if she'll live? When you meet the fish ("Us") they are extremely energising. Peculiarly the fish speak Hungarian! The fish make Fish Boy feel wanted and included unlike at school where he gets bullied and teased. Fish Boy is surprised to find Patrick helps him to understand the fish's language.
I think this book shows you that you should love your parents more than a shoal of fish even if things get tricky.
It is a book for all ages and all genders because it is about love, survival and difficulty and it is very exciting. Although it is uncorrected it has no mistakes.
I recommend anyone who likes nature to read it, you will want to stay inside the pages and read it over and over again.
I absolutely love it.
_ _ _ _ _ _ _ _ _ _ _ _ _ _ _ _ _ _ _ _ _ _ _ _ _ _ _ _ _ _ _ _ _ _ _ _ _ _ _ _ _ _ _ _ _ _
The Boy, The Bird & The Coffin Maker  | Matilda Woods

Review by Izzie Neave, age 8
This book is about Alberto, who lives in a town of Allora where all sorts of weird things happen, like fish that can fly! All of Alberto's family and the only Coffin Maker in town died from the Purple Mark, a horrible disease, so instead of making toys for his children, Alberto begins making Coffins to stop dead bodies from being thrown out into the surging ocean. Then a mysterious person began stealing things from Alberto's house, and this mysterious person turned out to be Tito and his Bird, who was called Fia. Tito's mother was called Anito Bonito, who sadly died because of a growth just above her heart. When she died, she was brought to Alberto, the Coffin Maker, and Tito followed them to Alberto's house and kept returning. Tito's father was trying to seek him out but Tito didn't want to be found. Then Enzo, the Baker, told Alberto that Tito's father was going to go to his house to get Tito because he knew that Tito was trying to get away. Will Alberto be able to hide Tito and his bird from his father, or will they not succeed?
I liked this story because it was very good and had lots of detail, and had a very unique story. It could be made a bit better by giving me a bit more explanations about Tito's mother and father, because we don't learn much about those characters and I would've would've liked to learn more about them.
I think this book is for people aged 8 and above, because it can be a bit scary in places and some of the words are a bit difficult for younger children. Overall I would rate this book a 4 and a half out of 5 because it was really good and exciting!
_ _ _ _ _ _ _ _ _ _ _ _ _ _ _ _ _ _ _ _ _ _ _ _ _ _ _ _ _ _ _ _ _ _ _ _ _ _ _ _ _ _ _ _ _ _
Opal Plumstead | Jacqueline Wilson

Review by Izzie Neave, age 8

I read Opal Plumstead by Jaqueline Wilson. It is about a girl called Opal and when her father is sent to prison she is devastated. After a few weeks, she is sent to work at Fairy Glen. She has to work in the Fondant Room. She hates it. But after a fight with one of the girls in the Fondant Room, she moves to the Design Room. After a while, she starts painting fairies for the sweet boxes. One day she meets Morgan, Mrs. Roberts' son, and falls in love with him. They go on trips and send love letters but have to make sure that Mrs. Roberts doesn't find out. Mrs. Roberts is a Suffragette and Opal decides she wants to be a Suffragette too. But because of World War I the Fairy Glen Factory closes. But before it closes, Mrs. Roberts suggests to Opal that she should go to Art School. So Opal goes and meets some new friends. One day, Opal visits Fairy Glen and thinks about all the amazing times she has with Morgan. Meanwhile, her Father comes home.
I liked this book because is was interesting but it did have a lot of tricky words. I think this books is for 10+ year olds. I would give this book 4 out of 5 because it was really good but a bit hard to read.
_ _ _ _ _ _ _ _ _ _ _ _ _ _ _ _ _ _ _  _ _ _ _ _ _ _ _ _ _ _ _ _ _ _ _ _ _ _ _  _  _ _ _ _ _ _ _ _ _ _ _
Magisterium, The Iron Trial | Holly Black and Cassandra Clare
Review by James Kitchen, age 8
This magical and surprising book will pull on your heart strings as you read close to the end for you do not want to leave this magical world of wonder. The main character, Call is my favourite because he is brave and determined. When he was a baby his leg was shattered in the cold massacre but that doesn't deter him. Call's father is stubborn about magic because his wife was killed thanks to evil magic.
Call thinks he is an ordinary boy until he cracks the earth whilst out cold after four bullies attack him on the school playground. Call is also kind and caring when his friends need help although he does steal things like naked mole rats. Even Call's friend Aaron (who is a maker so can use Chaos magic) needs help when he is chained to the beams of an old bowling arena above a Chaos elemental in a tank which wants to suck him dry. Call's dagger named Semiramis helps him kill a Chaos Elemental with inky blackness instead of blood.
Call is a complicated character for he has the soul of Constantine Madden (aka the enemy of death) inside him. Call doesn't realise this until the very end when Master Joseph tells him.
I would recommend this book if you like Harry Potter and don't mind having to read the book over and over again to make sense out of it. On the other hand you will probably want to read it again anyway because it is brilliant and exciting.
I would give this book 4/5.
_ _ _ _ _ _ _ _ _ _ _ _ _ _ _ _ _ _ _ _ _ _ _ _ _ _ _ _ _ _ _ _ _ _ _ _ _ _ _ _ _ _ _ _
The Racehorse Who Wouldn't Gallop | Clare Balding

Review by Izzie Neave, age 7

I read The Racehorse Who Wouldn't Gallop. It is about a girl named Charlie (her real name is Charlotte) and she buys a pony and a racehorse. Charlie is a pony-mad ten-year-old. When she goes to the stables, she buys not one, but two horses! The pony's name is Percy – a Palomino pony with one blue eye. He is a very naughty pony and when he is on the Derby Racecourse, right in the middle of the ring he lets out a trumpet noise from his bottom and makes Charlie feel embarrassed! The racehorse is called Noble Warrior, but he doesn't move an inch! He doesn't even move around the field without his best friend Percy. Charlie knows there is a big race called Salisbury soon and she really wants to go to it. But, she might not be able to because they don't have enough money and Joe (the jockey) doesn't get a license in time to ride Noble Warrior in the race! So because they missed the Salisbury race, they decide to go to the Derby, the biggest and trickiest racecourse in the world! Do they win or lose the Derby?
My favourite parts were when Percy let out a trumpet noise and when he made loads of trumpet noises in the field! I loved every part of this book because it was a really funny and heart-warming story about two friends who worked together to make a team. I think children who are 4 or over will love this book and I think that they will love reading about the racehorse who wouldn't gallop!
_ _ _ _ _ _ _ _ _ _ _ _ _ _ _ _ _ _ _ _ _ _ _ _ _ _ _ _ _ _ _ _ _
Robyn Silver and the Midnight Chimes |

Paula Harrison
Reviewed by Poppy Morris, age 9
Robyn Silver is an amazing book, full of monsters in Wedleton. As Pearl the head vampire is disguised as a music teacher in their local school, the whole town is in danger! Can Aiden, Robyn and Nora, with help from Mr Cryptorum and Miss Smiting, rid their home town of monsters and vampires?
I think this book is good for 8-12 year olds.
I give this book 5/5
_ _ _  _ _ _ _ _ _ _ _ _ _ _ _ _ _ _ _ _ _ _ _ _ _ _ _ _ _ _ _ _ _ _
Joe loved fried chicken and chips smothered in tomato sauce and mayonnaise, especially after a day at school-nothing else hit the mark as far as he was concerned.
This is a story about Italians living in Wales now and their ancestors lives during the Second World War and the difficulties of being called an 'alien' because they came from a different country that was fighting with Germany.
An amazing book, nothing beats this book as far as I am concerned. A thrilling, amazing book even though there's swearing.
I would recommend it for ages 8+
_ _ _ _ _ _ _ _ _ _ _ _ _ _ _ _ _ _ _ _ _ _ _ _ _ _ _ _ _ _ _ _ _ _ _ _ _ _ _ _ _ _ _ _ _ _ _
Erica's Elephant | Sylvia Bishop
Reviewed by Year 5s and 6s at Brassington Primary School
''Who left you and why?''
Three people from Brassington Primary School Griffins class read this book and would like to share their thoughts about the book.
Erin Cox Y6
I liked this book because it's interesting and a bit adventurous and easy to read. It's mainly about Erica and an Indian tour elephant making friends and outsmarting zoo keepers and lots more. I think it's best for children 3-6 or 7 because it's so unrealistic. I rate this book 4/5
Saphi Wragg Y6
I quite liked this book, but I found it hard to get interested in the story and the characters because the elephant part is light hearted and Erica's very serious. The book is about Erica trying to keep her elephant from a woman who wants to take it to the zoo. Anyone from 5-8 would probably like it. I would rate this book 3/5
Elsa Parkin Yr 5
This book was unusual ,funny and enjoyable .The story was about an elephant that turned up on Erica's door step .I sometimes thought it was a bit too unrealistic but it was still fun to read. 4/5
 _ _ _ _ _ _ _  _ _ _ _ _ _ _ _ _ _ _ _ _ _ _ _ _  _ _ _ _ _ _ _ _ _ _ _ _ _ _ _ _ _ _ _ _ _ _ _
Esio Trot is a very good book for both children and adults. My favourite character is Mr Hoppy because he's very clever and determined to win Mrs Silver over. I liked it when Mr.Hoppy bought all the different sized tortoises and almost couldn't fit them in his room! This book wasn't especially funny, but it was very entertaining and held my interest until the end. I would definitely recommend this book.
_ _ _ _ _ _ _ _ _ _ _ _ _ _ _ _ _ _ _ _ _ _ _ _ _ _ _
Shadow | Michael Morpurgo
Reviewed by Elsa Parkin, age 9
Brassington Primary School

This book is good because it is sad and jolly but if you don't like death and war you might not want to read this book. The story is set in Afghanistan and is based on a real story.
Shadow, the dog is a Springer Spaniel who worked for the army as a sniffer dog. He travelled to England with Aman and his Mother who are refugees to escape from the war. I like the drawings in this book because it helps me imagine the story. In the description all the characters sounded realistic.
I think that this book is suitable for boys and girls age 8-10 .  I like grown up stories but made into a child's book.
_ _ _ _ _ _ _ _ _ _ _ _ _ _ _ _ _ _ _ _ _ _ _ _ _ _ _ _ _ _ _ _ _ _ _ _ _ _
This book is about a boy called Ben and his boring Granny. Ben's Mum and Dad like to watch Strictly Stars Dancing Live On Stage Live! So while his parents watch the show every Friday Night, Ben has to go to his boring Granny's house for the entire night! Ben hated everything about going there, from her blow-offs that didn't just smell like cabbage, but of rotten cabbage, to going to bed so early it wasn't worthwhile getting up in the first place! It all starts on a normal boring night at his Granny's house, when Ben pretends to eat his cold rotten egg. Behind his Granny's back, he flicks the egg out of the widow and hides the soldiers behind the radiator. When his Granny goes to put another cardigan on, Ben looks for something else to eat. He knows that Granny had a secret stash of biscuits, so he climbs up on his chair so he can reach the Silver Jubilee assortment tin. It feels unusually heavy, so he opens the tin and stares inside with astonishment. It is filled with Diamonds, Rings, Bracelets, Necklaces and Earrings, all with huge sparkling diamonds! Ben wants to go back to his Granny's house so he can do some detective work. But he can't go back, because his Granny is out, even though she never goes out! So Ben sneaks out and follows his Granny all the way to the outside of a jewellery shop. He shouts to his Granny before she can break in to the shop and she is forced to tell him everything. Ben finds out that his Granny is known as the Black Cat and is an international jewel thief! Now he knows that his Granny is not boring at all, he goes back to her house and she tells him stories of all the jewels she stole. But there is one set of jewels that she doesn't have. The crown jewels! So they make a plan to steal them, and almost succeed! But not before they run into the queen, or almost waking the servant!
I really, really enjoyed this book, because it was very funny and made me laugh a lot. On the back of the book, it says it is for children aged 9+, but I think anyone over 6 would really enjoy it! 
_ _ _ _ _ _ _ _ _ _ _ _ _ _ _ _ _ _ _ _ _ _ _ _ _ _ _
Peter Pan | J M Barrie
Reviewed by Poppy Morris, age 9
"All children, except one, grow up!"
An AMAZING book, so thrilling and full of adventure! It takes you to the place where your dreams take place, The Neverland!
Everyone knows of Peter Pan, so when Wendy wakes up she recognises the well-known figure. Peter takes Wendy, John and Michael, causing destruction in their home. When they get to The Neverland, they have a disaster! Old Captain Hook is lying in wait, and Tinkerbell just had a fall out with Peter, and is already hating Wendy! What will become of them?
I think this book is good for 6-12 year olds. 5 out of 5.
…………………………………………………………………………………………………..
Beetle Boy | M.G. Leonard

Reviewed by Leo Duncan, age 10
It's about Darkus, a boy whose dad disappears and he has to try and find him. It is a very enjoyable read and I highly recommend it. Here I will quote a paragraph of this very enjoyable book: 'Peering into the box, Darkus saw the beetle on its back, legs thrashing about frantically as it tried to get back on its feet. He immediately felt bad for hitting it. He reached in and flipped the poor creature the right way up'
This is one of my favourite books out of many of the novels I have read. To describe this book in three words Quirky-Funny- Adventure
In the quote of another author 'a darkly funny Dahl-esque adventure'
Darkus understands beetle's movements, and finds a mountain of rare beetles in his evil next door neighbour's bedroom. This bit I find odd… they are living in a mountain of, tea cups!
There will be a sequel 'Beetle Queen' and as soon as it comes out I am going to buy it straight away.
I recommend it very, very highly for 8 to 13 year olds.
………………………………………………………………………..
Pit Pony | Gordon Ottewell
Reviewed by Victoria Bowler, age 7
This book is set in the 1860's, when there were a lot of children going down Derbyshire's coal mines. It is about a boy called Peter who is 13 years old and is in charge of Tich, a pit pony.
Peter and his father work down the local mine. He is given Tich  to look after, who pulls the carts full of coal from the pit to the surface. One of the other boys is mean and doesn't look after his pony very well. He sets out to make Peter look bad and in doing so harms poor Tich. Peter is upset when he hears that Tich will be put down after his injuries and age, so he rescues Tich and starts a journey to his Uncle's farm.
What dangers wait along the way? What happens when Peter finally finds and then rescues his Uncle Bill? Is Peter in bad trouble when he finally gets home?
I liked the story as it includes a pony and lots of names of villages I recognised. It may be more suitable for a boy.
………………………………………………………………………..
Foxcraft #1 – The Taken | Inbali Iserles

Reviewed by Immy Nieper, age 13
I would recommend this story to any animal lover as it tells the story of a young fox cub named Isla, who is used to playing in the woods with her brother Pirie and living with Ma, Fa and Greatma.
When her family decides to move den, Isla decides to quickly pick some berries so they don't get hungry, but by some big misfortune, she gets separated from her family and has to look after herself.
She decides to search for her family on the deathway and on the way she meets a friend Siffrin who decides to help Isla, but is he all he seems to be?
Will she ever find her family? And who can she trust?
It is a slow moving book which I found hard to finish.
………………………………………………………………………..
Poppy Pym and the Pharoah's Curse | Laura Wood
Reviewed by Alexis Fradley, age 10
Poppy Pym and the Pharaoh's Curse is a jam-packed book about the adventures of Poppy Pym, a crazy circus girl and her friends, Kip and Ingrid.
It all starts when Poppy is abandoned as a baby at Madame Pym's Spectacular Travelling Circus, found in the magicians top-hat!!! She soon settles in to her new home, and the Circus performers soon seem like family. At age 11, Madame Pym decides that Poppy needs to go school to learn more and be with people her own age. Sent off to Saint Smithen's, a posh old boarding school, what could possibly happen…
Perhaps, a super adventure to do with the mysterious Pharaoh's curse on an old Egyptian Ruby Scarab Beetle, that seemed to influence its owners! When the Ruby beetle, among other Egyptian artefacts are bought to Poppy's new school, will it bring the curse with it???
A first-class mystery soon arrives full of odd suspects and clues. After a few dead-ends they find the thief, but have Poppy, Kip and Ingrid gone a step too far, and will they survive at gunpoint…?
An excellent, quirky book with many twists and turns has won a well-deserved award already. I am sure it will be a huge success for first-time author Laura Wood.
I recommend this book for ages 9 and over.
……………………………………………………………………………………….
Angels Next Door | Karen McCrombie

Reviewed by Rebecca Maver, age 10
'Angels Next Door' is a book about how important friendship is.
When Riley's best friend in the whole world, Tia, moves to the other side of the world, Riley thinks her life is over. She has to survive school on her own and try to ignore the mean taunts of Lauren and her gang.
Yet, one day, a strange new family moves next door, into Tia's old house. After the Angelo sisters move in odd coincidences start to occur. Dot, Riley's sort-of-stepsister, says that angels have come down to earth and moved into the house next door. She couldn't possibly be right… could she?
Perhaps Riley's life isn't over. Perhaps it has only just begun.
I really enjoyed reading this book, it's heart-warming, fun and has a great message running through the story. I think that it is a book that is easy to relate to, and it has a reassurance to not give up hope, even when things are looking down. I loved reading this novel and I can't wait to read the second book, 'Angels in Training'.
……………………………………………………………………….
The Famous Five: Five On A Treasure Island | Enid Blyton
Reviewed by Alexis Fradley, age 10
This is the first book in the popular Famous Five series, another collection of Blyton's Mystery and Adventure.
In this book, brothers and sister Anne, Dick and Julian travel to Kirrin Bay, expecting a nice, peaceful holiday. Little did they know it was going to be much more than that! On meeting their cousin Georgina, more commonly known as George, they learn about a small island at the entrance of the bay, called Kirrin Island. George has always wanted to be a boy: she wears her curly hair cut short and boys clothes.
Kirrin Island belongs to George. She has rowed there many times, along with her beloved dog Timothy, yet she has never discovered the joy of sharing it with others. When a sudden storm breaks out, a wreck thrashes its way onto the island's shore with a tale of treasure. The Famous Five decide to try and find the ingots; but they are not alone! Enemies lurks round every corner.
Will the Five manage to find the treasure before it is too late…?
…………………………………………………………………………………….
The Palomino Pony Comes Home | Olivia Tuffin

Reviewed by Victoria Bowler, age 7 
This book is suitable for anyone who loves ponies and is age 7-10 years.
I thought Georgia a really nice girl, who shows you some of the things you have to do to look after a pony.
Georgia is a pony lover, who would love to have her own pony, but her Mum can't afford one. So she helps at a stable and gets to ride a pony for cleaning out the stables. One day she gets sent to a summer school and while she is out and about sees a wild-looking pony. She follows it and at the end of the week has made friends with it, but the pony doesn't trust anyone except an old man who can't look after her anymore.
The pony is hurt by the owners granddaughter and Georgia and her friend Dan rescued the pony and took it back to the stables. But when the nasty granddaughter finds out, she does bad things to try to get the pony back. Will she get the pony back? Will Lily the pony trust humans again? Are you a pony lover like me, if so this book will be suitable for you.
…………………………………………………………………………………….
 
The Dentist & The Octopus | Michael Coupland
 Reviewed by Poppy Morris, age 7
This is a story about a dentist and an octopus.
I think it's quite boring to begin with, because it uses too many long words and you can't understand them all and it doesn't always make much sense.
Sometimes the story starts getting interesting, but then I feel it goes downhill, because it tells you about something less exciting, like describing the kitchen. Really, you want him to get on with the story.
I think it's for ages 8-10 boys.
………………………………………………………………………………………….
Kensuke's Kingdom | Michael Morpurgo
Reviewed by Georgina Kinsella, age 9

I would not normally have chosen to read this, but read it because we have been asked to by our teacher. The book doesn't look that interesting at first, but once you get into the middle of it, it is quite exciting.
One of the main characters is Michael, whose father was made redundant from a brick factory. Unfortunately, his mother worked in the office at the same brick factory and she was made redundant too!
Surprisingly, the reader is swept off for an amazing adventure, where Michael starts sailing around the world in a yacht called the Peggy Sue. He falls overboard at night and gets swept onto an island in the Pacific.
The next day he wakes up to hear his dog Stella (who was swept away with him) lapping water thirstily on the ledge above. He goes up there and glimpses on the shelf of rock some water which because he hadn't drank since the night before, was great.
He finds some fish but it is raw, (yuk) but is food, and some red bananas which are amazing!
He meets Kensuke, a Japanese person who escaped from a bomb in the world war. Kensuke had been washed up on the island at the age of twenty and was now seventy!
They make good friends and if you want to know what they do, next read the book!
The book is suitable for age 7 and above.
………………………………………………………………………………………….

Perseus and the Gorgon | Lesley Sims
Reviewed by Hugh Morris, age 6
This book is about lots of different adventures that Perseus has, whilst on a mission to kill the Gorgon, Medusa (who is a nasty monster.) He has to do this to rescue his mother from King Polydectes.
The village priest gave Perseus a magical sword that could cut through anything and a shield so he can see Medusa in the reflection. It is important to only look at Medusa's reflection because if you look at her with your own eyes, you will be turned to stone!
This story is a Greek myth.
I really enjoyed this story, because it's really exciting and a tiny bit scary. I could read this chapter book all by myself, although there are some difficult words.
I think this book would be good for people from about 6-8 years who like myths and legends.
………………………………………………………………………………………….
Pia the Penguin Fairy | Daisy Meadows

Reviewed by Poppy Morris, age 7
This book is about a fairy called Pial, who is one of the Ocean fairies. She has a pet penguin called Scamp, and he guards one of the pieces of the Magical Conch Shell, which was stolen from the Ocean Gala by the goblins.
In this book Rachel and Kirsty (the main characters of all the Rainbow Fairy books) help Pia find the missing piece of shell that belongs to her. They must race to find this before the goblins do!
I like this book because I believe in fairies. It's very exciting, especially at the lighthouse. Also, I like it because you feel really tense because when the goblins come, they are really near the shell! Did you know this book has a lot of magic in it?
I think this book is for girls between 8 and 5 years old.
I would give this book 9/10.
………………………………………………………………………………………….

Rescuing Gus | Melissa Wareham
Reviewed by Victoria Bowler, age 7
My favourite thing about Rescuing Gus is that it's based on a real life story. I found it interesting and quite funny in places.
The story is about a girl (Melissa ) who has always wanted a dog, but her parents don't like animals and won't let her have one. So when she grows up and leaves school, she gets a job at Battersea Cat & Dogs home. One day, a part mongrel/part husky dog (Gus) turned up at the home and she fell in love with him. She decided to take him home to live with her and then the fun starts.
The story follows Gus & Melissa, as they discover new things together, for the next 3 ½ years. It shows what fun and love an older dog can give and that it is possible to teach an old dog new tricks!!
The ending is quite sad, but it is such a lovely story that I'm sure other children will enjoy reading the book as much as I did.
I give Rescuing Gus 5 stars.
………………………………………………………………………………………….
The Spook's Revenge | Joseph Delaney

Reviewed by Egan Derrick, age 10
The book introduced to me by Scarthin Books, is set in a fantasy tale around Halloween. While Grimalkin and Tom Ward are on their mission to stop the Fiend from coming back into the world, Grimalkin fights another witch assassin called Katrina. Even Grimalkin has to retreat under Katrina's blades…
One of them will die on Halloween.
This book is interesting, because lots of unexpected things happened in it; just when you thought everything was going nicely something terrible happens, and you are really surprised.
If you have read the rest of the series it will make more sense than if you haven't read any of the previous books, but it still reads well by itself. I can't wait to read all of the new books and find out what happens to the Kobalos.
Most children from the age of 10-15 who are fans of fantasy fiction would like this book because it is very clever and the writer has done very well. Since reading this book I have started reading the rest of Joseph Delaney's brilliant books and am enjoying them very much.
So far, I have read 7 of the 15 books in the series, and am looking forward to completing it. After reading some of the other books this book has made more sense, as it makes references to some of them. I can't wait until the film that these books have inspired (Seventh Son) comes out… but I doubt it could be as amazing as the books.
……………………………………………………………………………….
A Home For Teasel | Margi McAllister
Rebecca Maver, age 10
A young girl, named Gwen, has wanted a pony for as long as she can remember. However, her family are unsupportive; they complain about the costs and mock her love of horses, so Gwen realises that if she wants a pony, she's going to have to work for it herself. Gwen starts helping older people to get their shopping and wash the dishes and all sorts, just to save up to buy a pony. One musty day Gwen has to do the shopping for an old lady, called Mrs Tilney. So Gwen goes over to see to her chores and she gets a big surprise: Mrs Tilney owns a pony!
As the months go on Gwen gets a bond with the pony, Teasel, and always enjoys going to Mrs Tilney's house.
Gwen comes back after a ride to find that Mrs Tilney has had a stroke. Heartbroken, Gwen has to learn to live without Teasel. Or will Teasel find her way back to Gwen?
I loved reading the book! It made me want to find out what happens next. If you like horses, this is the book for you.
……………………………………………………………………………….
Stan Stinky | Hannah Shaw

Reviewed by Victoria Bowler, age 7
Have you ever wondered what rats get up to in the sewers? This book tells it you all, including the POO!!!
Stan stinky is a boy-rat who dreams of going on adventures. He goes to stay with his uncle on a boat, in the sewers. There he sees all the things men flush down the toilet and how his uncle keeps the sewers clear and flowing.
I liked the friendly cockroach, Roachy, and thought the story quite funny.
I give it 3 stars.
………………………………………………………………………………..
Dragon Rider | Cornelia Funke
Reviewed by Rebecca Maver, age 10
Everyone's heard of dragons. But I know that hardly anyone has seen one. They're in hiding. They've been hiding for over a thousand years. Hiding from the human race; hiding from The Golden One.
But one dark, musty day on an isle near Scotland, a young, brave dragon, named Firedrake, decides to stop hiding. He and his furry brownie, Sorrel, go on a dangerous quest to find dragon paradise, The Rim of Heaven. On the way they meet lots of weird and wonderful characters, such as a thousand-eyed all-knowing creature and a young boy whose destiny is to become the true dragon rider.
But with a dragon-eating monster on their tale, following every move they make, will Firedrake make it to The Rim of Heaven safe and sound or will he lead many scared dragons into The Golden One's hungry jaws?
I love this book; it's one of my favourites. My favourite character is Sorrel, the brownie. I like her because she's quite funny and feisty. Dragon Rider is a really amazing book! It makes you want to read on.
………………………………………………………………………………………………………..
The Abominables | Eva Ibbotson
Reviewed by Egan Derrick, age 10
This is a story about the adventure of a boy, a girl, an old lady and six yetis. Lady Agatha Farlingham looks after the yetis and teaches them manners. A boy finds a shaggy yak which makes tunnels like mole hills and crawls through one to find the yetis' secret valley.  The boy called Con learns all about the yetis and offers to take them to England to Lady Agatha Farlingham's old house. The offer is accepted and so their adventure begins.
I like this book because it is funny and so are the characters. It has a mixed pace and is very interesting. It was an easy to read, medium sized book. I would recommend it for eight to ten year olds.
………………………………………………………………………………..
The Extincts | Veronica Cossanteli
Reviewed by Rebecca Maver, age 9
Have you ever heard of an 'archaeopteryx' or a 'dracunculus dentanus'?
No?
Thought not! Even George didn't know what they were before he joined Wormestall Farm.
It all started when George Drake was riding on his bike to go home after school.
He found £3.72. Hooray!
Then he went into the sweet shop to buy sweets with his lucky money. When he came out, his bike had gone.
Booo! Not a good day.
He needs money to buy a new bike. When he goes back to the sweet shop he sees a sign on the window, advertising Wormestall Farm.
His adventure starts there. Going to Wormestall was going to change his life. Meeting Lo, Mrs Lind and Prudence will make his life more interesting. Wormestall is full of creatures that should be extinct. When George hears that a Basilisk is missing he is determined to save it. Will George manage to save the creature, with an evil taxidermist hanging around?
This is one of the funniest books ever! I think my favourite character is Prudence, she's very kind and helpful, but she doesn't have a very nice life. It's a cool book and I think that everyone should read it.
…………………………………………………………………………………
Dragon Frontier | Dan Abnett

Reviewed by Sophie Bowler, age 10
I thought the story really slow at the start, but when I persevered the story warmed up and started getting interesting.
Jake Polson sets off with his family to find a new life in the 1850's American West. Dreaming of adventures like his favorite book character, nothing could have prepared him for what happened next; flung into rivers, rescued by Native Indians, tattooed and scarred, Jake encounters the terrifying Thunderbirds (dragons!!!)
The book keeps you enthralled, as Jake gets deeper and deeper into adventures, seeking the truth as to what happened to his family and the wagon train. Why has he survived and why are the natives helping him? Why was he chosen by the Thunderbirds and just how else can he use his power with the dragons?
I was really disappointed when the book finished, as I wanted to read more!!
The book is probably more suitable for boys aged 9+
I gave this book 4/5, due to the slow start.
………………………………………………………………………………….

Z. Apocalypse | Steve Cole
Reviewed by Egan Derrick, age 10

Apocalypse, the incredible sequel to Z.Raptor, is all about how Adam Adlar (only 14), Zoe, Z.Apocalypse (a pterodactyl) and Z.Rex manage to defeat a ghost from Adam's past. Geneflow will not stop destroying the powers of the world until they are sure they aren't a threat.
When I finished this book, I was disappointed that there was no more.  Compared to Z.Rex, Z.Apocalypse is not the best of the series.
This book is good for children from ages 8+.
………………………………………………………………………………….
Harry Potter And The Prisoner of Azkaban | J.K. Rowling

Reviewed by Sophie Bowler, age 10
A spell bounding insight into the world of Harry Potter. The book sparks the imagination and keeps the readers interest from start to finish.
In this magical themed book Harry Potter (a young lad with an unusual lightning shaped scar) goes on yet another thrilling adventure. But this time, Harry Potter comes face to face with his dead parent's best friend and Harry's criminal godfather, Sirius Black.
Ron was in for a shock when his pet rat, Scabbers, turns out to be a servant to the dark lord Voldemort.
With his teacher turning into a werewolf, the Dementors trying to suck out his soul, will Harry get out of the situation alive?
I recommend this book for 7 and over, for it can get very gruesome and frightening. I gave this book five stars, because I really enjoyed reading this book, but make sure that you allow yourself plenty of time to finish it, as you won't want to put it down!
………………………………………………………………………………….
The Famous Adventures Of Jack | Berlie Doherty
Reviewed by Rebecca Maver, age 9

Everyone knows the story of how Jack climbs up the beanstalk to the giant's castle, but what they don't know is that there's much to it that than that. Meet Jill. She wanders through the forest and comes across a man who tells her to go to a small cottage in the woods, with this old bag, to find Jack. Obediently, Jill walks further into the woods, with the bag, and finally finds a small cottage (just as the man had said!) with an old lady living inside it. Her name is Mother Greenwood. Jill asks Mother Greenwood about Jack and gives her the bag. When they look in the bag they find all kinds of odd objects that relate to lots of stories with a Jack in. There's 'Uncle Jack', 'Daft Jack', 'Jack the Giant-Killer' and much more! But which Jack is Jill really looking for? The answer might not come as quickly as Jill thought! Find out which one Jill is looking for when you read the book!
This book is AMAZING! It introduces you to lots of short fairytales that are filled with giants, evil kings, suspense and magic. It shows that if you let your imagination run wild, the results are fantastic! I like the idea of legends/stories woven up inside a new, original story to create a book. This book really excited me!
………………………………………………………………………………….
Twelve Minutes To Midnight | Christopher Edge

Reviewed by Rosalie Barrett Lawton, age 14

Twelve Minutes to Midnight is a story about  13 year old author, Penelope Treadwell. Her exiting horror story's, which she writes under the false name of Montgomery Flinch, delights her many readers, but she now has a chance to solve a real mystery…
This book, set in the Victorian times, has an engaging, if simple plot and well developed characters. It is hard to get into at first, but once you do you'll enjoy the unusual yet enjoyable style of Christopher Edge.
Although I enjoyed the interesting storyline, I prefer other genres and felt that it could be slightly over-descriptive in places. Apart from this, however, I did notice many deeper themes throughout the book, particularly the period of fast-paced change that comes in the years after the book was set.
I would recommend this book to readers of 9 and onwards who love a mystery.
………………………………………………………………………………….
Superstar High Book 1 & 2: Nobody's Angels & Time Of Your Life | Isabella Cass
Reviewed by Rebecca Maver, age 9
1.
Holly, Cat and Belle have all started The Garrick School of Performing Arts, nicknamed Superstar High because most superstars trained there. Belle's celebrity parents are never around so she moved from the U.S.A to London to go to the Garrick school, she's a singing sensation!
Cat is an Irish LOL ball who moved to London, because her Mum and Dad work in England; that's why she's joined Superstar High, she's an amazing actress!
Holly is just a down to earth North London girl who has a normal life, but when her dance teacher secretly snaps up an agreement form for her to join Superstar High she finds herself inside her Mum's car and rearing to get her dancing on! She's the dancing queen! Join Cat, Belle and Holly on their trip to the spotlight. There will be ups and downs, twists and turns and romance to!
2.
Holly, Cat and Belle have all had there first year of Superstar High! And a lot has happened: Holly's got a boyfriend, Cat's the female lead in the school play and Belle has A+ all over her report. There's so much to tell!
Let's start with Cat. Cat has just been told that she'll be playing Lady Macbeth in this year's stage performance, Macbeth! But will Cat be able to cram all she has to do in? Will she be able to face the challenges that await her?
Next up is Holly. Holly is still trying to get over the fact that her boyfriend is one of the most popular (and gorgeous) kids in school! And trying to settle herself over the fact that next year the school will put up a dance performance which is called 'The Nutcracker Sweeties' – it's one of her favourite shows and she might be in it!
And finally, Belle. Belle is acting strange. Whenever the new boy, Jack Thorne, comes near her she goes bright red and she can't speak! This can mean one reason and one reason only… CRUSH! But will things go smoothly with Jack? Or will her chance of happiness go down the drain of shame? To find all the answers, read the book!
I like these books because when I'm older I would like to go to a School of Performing Arts like the girls in the book do. I have a passion for singing, dancing and acting and I would enjoy life at Superstar High. If you enjoy singing, dancing or acting then this book is for you. The author (Isabella Cass) also gives you great tips on how to become a superstar. Read the books!
…………………………………………………………………………………..
Moon Pie | Simon Mason

Reviewed by Rebecca Maver, age 8
Meet Martha, she's an ordinary 11 year old who lives with her little brother Tug (Christopher) and her Dad. When Martha, Tug and Dad lived with Mum, Martha's life was amazing! Her parents would take her out to the tennis courts in the park and play tennis, and then they would go out to the Moon café and dine. Life was great, while Mum was alive. A couple of years after Mum died, Martha's live was different. Her Dad was acting strange: he climbed up the front of the house and left Martha and Tug in the house alone until early morning! What was going on? Martha was determined to find out…
I couldn't stop reading this book, it was so exciting! It left me wondering what it would be like to live Martha's life, it sounded like a rollercoaster ride! I found parts of this book a bit scary, but exciting. It's one of my favourite books! Read it, if you want to find out how Martha finds the truth about Dad.
…………………………………………………………………………………..
The Demon's Watch | Conrad Mason
Reviewed by Egan Derrick, age 10
This is one of my favourite books. It is all about mythical creatures like Dwarves, Trolls, Goblins, Elves, and Imps. They all live together in harmony with humans. They live in a place called Port Fayte.
The Demons Watch and The Dockside Militia fight to try and catch smugglers and thieves. A few awesome fighters plus a Goblin/human mix boy (also known as mongrel) Vs lots of highly trained elves battling for glory.
Adventure on every Page, Battles on Ships and Pub Brawls. What could be better? This book will engage readers from 9-12.
……………………………………………………………………………………
The Adventures Of The New Cut Gang | Philip Pullman

Reviewed by Rebecca Maver, age 8
Meet the New Cut Gang: Thunderbolt, Benny, Bridie, Sharky-Bob and the Peretti twins. They have yet another mystery on their hands! When their friend Dippy Hitchcock receives false money (snide) they all know something isn't right. Now Dippy always wanted his statue to be put somewhere, where everyone can see the magnificent sculpture. But when the gang make the statue out of straw and wax three men try to steal it. Is it really that valuable?
While Bridie and Sharky-Bob figure out that mystery, Benny, Thunderbolt and the Peretti twins are still trying to find out who's giving out snide coins. Could it be Thunderbolt's Pa because he'd just been arrested? Or could it be someone different? Read the book and you'll find out.
When I was reading this book I couldn't take my eyes of it! It's a mystery an adventure and it's got some comedy in it as well! If you love adventures you'll loooove the New Cut Gang! Read it!
……………………………………………………………………………………
Wanted! | Kate Thompson
Reviewed by Egan Derrick, age 10
I think this book is a short but memorable book. It is set in Roman times and is based on true facts. Nothing is obvious like: what is going to happen next. The book tells the story of an adventure of a boy and a horse who are on the run from the Roman army. One of the main characters is a boy who sells bread. Yet my favourite character is the Roman emperor Claudius because he pretends he is stupid so that his nephew (the current emperor) doesn't kill him because he wants to humiliate him. Claudius is a very clever and crafty man.
It was an easy book to read but it isn't one of my favourites. I recommend this book for 7-8 year olds.
…………………………………………………………………………………….
Lily Alone | Jacqueline Wilson

Reviewed by Bryony Adshead, age 12
An interesting and exciting read, this book tells the story of Lily, her sisters and her brother. When Lily's mother goes on holiday without her children, Lily is happy for her. She really is. Or at least that's what she tells herself. Lily is left to look after her siblings, Baxter, Bliss and Pixie, with no money and no key to get into her house. No one must know that their mother isn't looking after them, or the consequences would be terrible. Lily tries to be the mother her own never was, sweeping the floors, setting the table, but when things take a turn for the worst, she has to take her siblings away from home. Then Bliss has a horrible accident…
Will her mother ever come home? Will Bliss ever recover? Find the answers to these questions and more in Lily Alone, a wonderful book for children 8+.
……………………………………………………………………………………..
The Dragon's Apprentice | Dugald A. Steer
Reviewed by Egan Derrick, age 8
When this heavy book arrived I was excited to read it because the illustrations on the front are very interesting.  Also it mentions on the front of the book the 'Dragonology Chronicles' and I have the Dragonology game.  It is the third book of the series.
This is an enjoyable book that is full of tricks and dragons.  The dragons can talk.  Most of the story takes place in London.  The story is all about rescuing and protecting different objects, dragons and discovering a traitor.  The main characters are children, dragons and one adult.  My favourite character was a dragon called Erasmus because he is snooty, short tempered and mean, although really he is a good dragon.  The story ended as I expected but the part leading to the ending was very surprising.  I would recommend this book to other children and adults particularly if you like to get stuck into a book filled with surprises and adventure.
……………………………………………………………………………………….
The Haunting of Charity Delafield | Ian Beck

Reviewed by Rebecca Maver, age 8
Charity lives a very strict live at Stone Green Hall with her father, Charles Delafield, and his servants: Rose and Edward and the kind cook Mrs Browne. She doesn't live with her mother because she is claimed to have died at Charity's birth. Charity is haunted by the same dream every night: that she's walking down a green corridor and her cat, Mr Tompkins, is speaking to her. One day she finds a forbidden room and in that room is a little book of fairytales. When she reads this book more secrets seem to unfold, but when she finds her mother's diary the whole story starts to unravel and questions are asked: has her mum really died or has she not?
When I read The Haunting of Charity Delafield I couldn't get my eyes off it! I found it a bit scary in some places, but I mainly thought it was very exciting. When I was reading this story I was imagining Charity even though there were no pictures. One of the best books I have ever read!
………………………………………………………………………………………
Escape From Shadow Island | Paul Adam
Reviewed by Finn Sharp, age 10

Max Cassidy is a young escapologist who is caught in a huge conspiracy about his father's death for which his mother is serving eighteen years in prison. Max is not convinced his mother is guilty though, especially after a stranger came and told him his father was still alive. From then on tensions rise as he sets out to find his father and free his mother.
Escape from shadow island is the first in Paul Adams action/adventure books series, Max Cassidy adventures. it's a series of thrilling adventure books based on the intense life of Max Cassidy. This particular edition: Escape from Shadow Island is a book for mid teen readers.
I felt it was a good book overall. Initially, I found the story slow as Paul Adam set the scene but once the action and tension began to build, the book became far more enjoyable. Max Cassidy is an exciting character in the mould of a young James Bond and is set to run over several more books.
If Alex Rider and the young James Bond type characters and stories are your thing then you will enjoy Max Cassidy.
………………………………………………………………………………..
Darkisle | D.A. Nelson

Reviewed by William Moloney, age 10
The book was good and it was quite hard to put down: I read it in a weekend!
It's about a Girl called Morag who is treated very badly by her foster parents, Jermy and Moira. When she starts a row at breakfast she gets locked in the cellar and there she meets a rat and a dodo. They tell her about a quest they are on to free a dragon turned to stone 30 years ago by an evil warlock. They also tell her about a sacred stone called the eye of lornish which has been stolen by the warlock in an attempt to harness its power. They need the dragon because she is the only one who knows the way to Murst (a secret island off the coast of Scotland). When they get to Scotland they meet a fisherman called Kyle who agrees to take them to the island to steal the eye.
If you want to know more you will have to read the book! 4 stars from me!
………………………………………………………………………………………
The Longest Whale Song | Jaqueline Wilson
Reviewed by Bryony Adshead, age 12
After Ella's mum has a baby in hospital, things go really bad. Her mum goes into a coma, the new baby screams and shouts all day long, Ella's step dad is always to tired and grumpy and her best (and only) friend, Sally, has gone off with someone else.
When she is asked to do a new school project on whales, it seems like a bore, but the more she learns about whales, the more she loves them. Whales can sing for hours under the water, calling their love to each other. If Ella could find a way to do this, would her mum come back, or (at least) call to her?
This is an amazing book full of Ella's love for her mum, love for whales, love of drawing and loyalty to Sally. The Longest Whale Song will delight children, teenagers and adults alike, I would recommend this book to anyone, particularly if they were 8+.
………………………………………………………………………………..
Return to the Lost World | Steve Barlow & Steve Skidmore

Reviewed by Egan Derrick, Age 8
This is a book about a boy called Luke Challenger who is looking for his mum. She is at the Lost World where dinosaurs live and the snake & spear group. His mum is a palaeontologist (studies dinosaurs). This book is full of adventure, it is a quest, things surprised me about the story while I was reading it. At one stage a boy called Luiz jumped off a cliff so he didn't get eaten by an Allosaurus! The book starts with Luke nearly being assassinated whilst he's trying to win a gliding competition, but the would be assassin dies by crashing into a cable car wire and severing his own head! During Luke's adventure he travels in 2 planes, once as a passenger and once as a stow away, he also travels in a hot air balloon that can be steered. Luke always travels with his good friend, Nick and he finds other friends along the way, however there are many obstacles which attempts to stop him completing his quest. The story ends by Luke having a sword fight and completing his quest.
I liked this book and would recommend it to people who like guns, murder, adventure and dinosaurs.
…………………………………………………………………………………
Moon Pie | Simon Mason
Reviewed by Amy Punchard, age 10
This is EXACTLY my type book. I really enjoyed it.
It's about an eleven year old girl called Martha who's Mum died when she was 9. Martha loves to make costumes for the films her and her friends are remaking. But now being the lady of the house she has to look after her Dad and brother Tug (who says some very amusing things at times). So, when Martha's Dad starts drinking too much alcohol, she is worried. Desperate to keep her family together, she visits the doctor and the library, trying to get advice or information. Will social services find out?
Her dad's drinking causes him to be forgetful and angry and one day he goes way too far. Things are not made much easier when the Grandparents get involved.
This book is happy, sad, funny and unpredictable. Even adults would enjoy this tremendously realistic book.
……………………………………………………………………………………………
Hetty Feather | Jacqueline Wilson

Reviewed by Amy Punchard, age 10
Hetty Feather is my favourite book, I read it all the time. It is set in Victorian times and is about a girl with a fierce temper called Hetty Feather. She was abandoned as a baby and suffers a cruel life in the foundling hospital, where she is teased for her unique bright red hair. However, at Hetty's foster home her beloved  brother Jem took her to see the circus, where she met Madame Adeline, a lady with hair as red as Hetty's own. Hetty is convinced that Madame Adeline is her mother. So when it is Queen Victoria's golden jubilee instead of staying at the fair, Hetty runs away to find out the truth…
Hetty Feather is one of Jacqueline Wilson's best novels. I think this book will be enjoyed by children aged 7-12.
…………………………………………………………………………………………
Delphie and the Magic Ballet Shoes | Darcey Bussell
Reviewed by Rebecca Maver, age 7
Delphie loves ballet, but can't go to lessons because her
mum and dad don't have enough money. Then suddenly
she is allowed to join a ballet class for free! The teacher
gives Delphie some red, magic ballet shoes and they take
Delphie to magic adventures in Enchantia, the land of
ballet. In Enchantia Delphie helps the Sugar Plum Fairy
free the Nutcracker Prince from the evil Rat King.
Delphie and the magic ballet shoes is exciting because
it's one of those books when you always want to know
what happens next. There are other books in the Magic
Ballerina series and I can't wait to read them too!
………………………………………………………………………………………
The Siege of Macindaw | John Flanagan

Reviewed by Finn Sharp, age 10
"The Siege of Macindaw is book 6 in the exciting Ranger's Apprentice series by John Flanagan. The story is so much more than strategizing and fierce battles. Flanagan adds strong friendships, a small love story and most importantly modern humour. You'll laugh at the witty banter between Will and Horace. And best of all, the book leaves you satisfied, yet craving the next instalment."
This is a quote I got from a website and I personally do not agree with the last line. Almost all over the internet and on the blurb it states that the Siege of Macindaw is a fantastic book. I found the book to be quite slow to develop at most parts, and the story wasn't that gripping as it had made out to be.
Though saying all this, I talked to one of my closest friends who read the book, who said completely the opposite to what I just said.
So in conclusion if you like a story with medieval action plot and some good characters then this is the book for you, but for me it just didn't cut it.
4/10
………………………………………………………………………………………………
Z.Rex | Steve Cole
Reviewed by Egan Derrick, aged 8
This book is about a boy called Adam Adlar who is on
the run, a massive man eating dinosaur and Bill the
scientist. Also there is a group of baddies who want to
create an army of Jurassic park style dinosaurs to carry
out their wicked schemes. In parts of the book there
are fights between good and evil using ultra reality
gaming and dinosaurs. By the author of the Cows in
Action and Astrosaurs series of books this is aimed at
an older group 11+. This book is amazing, Z.Rex can fly
and even defuse bombs! This book is followed by the
sequel Z.Raptor which I am looking forward to reading!
…………………………………………………………………………………
Lob | Linda Newbery

Reviewed by Charlotte Lightwood, age 10
Lob is a wonderful book about a green man who Lucy is told about by her grandad Will. Lucy's parents and grandma don't believe that Lob (the green man) exists, but when Lucy's grandad died her nan had to move. Lucy prayed that she would see Lob again. In the end Lucy ended up giving up on seeing Lob, but then she sees him again…
Lob is a great book for all ages. It's an amazing book by Linda Newbery.  It's an enjoyable read for early learners but also for those in primary school or maybe even high school.
Well done Linda Newbery.
………………………………………………………………………………………………
The Totally True Story of Devon | Jon Katz
Reviewed by Bryony Adshead, aged 10
When I first laid eyes on this book I thought it was just another silly book about a talking dog or something; but how wrong could I be! This is an amazing book about how Jon Katz (the author) struggles to keep his promise to look after Devon, a two year old border collie with a habit of being extremely naughty! From jumping on moving vans to escaping through locked fences Devon means only one thing…TROUBLE!!!!!!   Before Jon adopted Devon he had a quiet life in New York, living with his wife and two lazy dogs. Both his dogs, Julius and Stanley, had never, ever been any problem at all so, Jon thinks as he says he will take on Devon, why on earth should a young border collie be a impossible challenge? That, of course, was before he met Devon. Devon had to be flown in from Texas, so Jon couldn't see how much trouble Devon was before he took him. One day Jon had a phone call from a lady called Deanne Veselka, a border collie breeder in Texas, who had read one of Jon's books and thought he would be the perfect owner for a troublesome dog. After that Deanne rang every day until Jon said, "yes he would take Devon". Then she still rang every day to tell him about naughty Devon, Jon wasn't so sure he had made the right decision now.
Read this book to find out whether Jon tames Devon or does Devon tame Jon? I would recommend this book for 7+ years old! (Adults might like to read the adult version of this book, A Dog Year: Rescuing Devon.)
……………………………………………………………………………………………
Aurora Dragon Orb |  Mark Robson

Reviewed by Egan, age 8
It's a really good book if you like dragons and war. This book is the last of a series of four good books. The basic story line of the books is to save the Oracle by collecting orbs, one for each dragon and rider. The dragons are called Firestorm, Shadow, Longfang and Aurora. They each have a rider, the riders are called Nolita, Pell, Kira and Elian. A man named Jack is one of the main characters. Jack is from another world full of war and 'flash bang weapons', he meets a day dragon called Bright Flame and becomes her rider. This book is about dragons, war, collecting orbs, sacrificing a rider and dragon for the rebirth of the Oracle. From the first page of reading this book I thought it was quite exciting and I didn't want to put it down because every time I finished a chapter I wanted to start another.
…………………………………………………………………………………………
Sparks | Ally Kennen
Reviewed by Bryony Adshead, aged 10
A story full of description and originality. This book has it all; amazing characters, Viking furerals and gothic carnival queens wearing pink. Not to mention Sparks, stealing dead bodies from funeral parlours and magic rivers.
The main character, Carla, lives next to a river that if you drink from gives you magic powers. With Carla's dangerous and hectic lifestyle she's going to need all the help she can get… When Carla's Grandpa dies she is devastated. She is determined to give him the Viking funeral that he always wanted.
In this amazing book you'll find that sometimes doing wrong is doing right.
This novel is award-winning teen writer Ally Kennen's first story for younger readers. I would recommend this book for girls and boys of 9+.
But, make sure you have got plenty of spare time; you won't want to put this book down!
……………………………………………………………………………………………
Little Darlings | Jacqueline Wilson

Reviewed by Jemima Lawler, aged 10
Little Darlings is an outstanding book about two very different girls but with an amazing friendship. This is the basic storyline: it's Destiny Williams' birthday and her mum is a single parent  but tries very hard to make Destiny happy. One of her birthday presents is two train tickets to London because Destiny's mum thinks it's about time Destiny should meet her father …On the other hand there is also another character in this story – Sunset, who doesn't have a normal lifestyle because she is the daughter of a famous rock star, Danny Kilman. Sunset has two other siblings, Ace and Sweetie Kilman, and their mother is Suzy Kilman. Destiny and Sunset meet in the most unthinkable circumstance and soon an incredible friendship begins to form… Winning the local school talent show is probably the most interesting thing that happens to Destiny Williams but she finds herself being even happier; things start to sparkle and form and she might be able to find her long-lost dad …… (maybe).  This Jacqueline Wilson book really makes your heart melt and stammer. It really is touching –  I really recommend it to anyone who is a Jacqueline Wilson fan. Even if you aren't I can assure you that you will adore it. Definitely the best Jacqueline Wilson – 10 out of 10.
………………………………………………………………………………………………
The Candle Man | Glenn Dakin
Reviewed by Charlotte Lightwood, Aged 10
The Candle Man is about a little boy called Theo.  Theo has been in the company of only three people in his short life , because of an apparent illness he has.
One dark, creepy night two devious burglars smashed the window of Theo's mansion sending Mr Nicely, Theo's butler, flying. The two burglars, named Brady and Foley, started to ask Theo where all the good stuff was. Now Theo had not only been in the company of three people in his life but he was also only allowed in one room of the mansion, his bedroom. Theo started to creep down stairs with Brady and Foley until he realised he wasn't wearing his gloves. You see Theo had to wear his gloves because of his illness, but Brady wouldn't let him get them. After a while Theo touched Brady and he started to turn to wax.
Join Theo on his adventure to find out why he has only been in the company of three people in his short life. Could his rare illness be more than it first seems? And what is his connection with the legendary Candle Man?
To summarise the book, I'd say it was funny and exciting and I didn't want to put it down.
………………………………………………………………………………………………
Midnight | Jacqueline Wilson

Reviewed by Bryony Adshead, Aged 10
This book is fantastic! It is about fairy loving Violet, Violet's older brother Will and Violet's new best friend, Jasmine. The story will bring fantasy loving readers and reality loving readers together. Jacqueline Wilson, the author, cleverly combines Violet's fantasy world with her usual down-to-earth reality style.
The day Jasmine arrives at Violet's school they become best friends. But their friendship is broken when Jasmine takes a visit to Violet's house. While Jasmine is at Violet's house Violet has to go into her attic. There, she finds a box that reveals a shocking family secret. After an argument with Jasmine, Violet runs out of the house and goes to try and find her favourite author, Casper Dream. Surely someone who writes such wonderful fairy stories could help put her friendship back on track? Then something magical happens to Violet and she rushes back home only to find Jasmine has left.
You will have to read the story to find out if Violet will ever have a real friend.
This story will appeal to 9-12 year old girls (maybe a few boys too).
Even if you don't like the story it is worth reading just for the illustrations by Nick Sharratt!
…………………………………………………………………………………………………………
Cosmic | Frank Cottrell Boyce
Reviewed by Finn Sharp, Aged 10

Cosmic by Frank Cottrell Boyce is an enjoyable first person children's comedy book. It's set around about now and the main character is the hugely appealing Liam Digby who keeps getting mistaken for a grown man (even his new head thinks he's in charge of media studies!) The book starts with the introduction when Liam is talking to you from his Drax World Communications phone's voice diary app telling you about what's happened but you'll have to read the book find that out.
After the introduction the second chapter starts innocently enough. Liam is out with a friend from his street called Florida and they go to Liverpool city centre, but then disaster strikes when in the shopping centre everyone mistakes Liam and Florida for a dad and his daughter having a day out and Liam starts doing things only adults can do. While Florida is in a shop, Liam goes to look at the Aston Martin garage when he almost ends up taking an Aston Martin DB9 out for a test drive until his dad yanks him out of trouble and tells the flashy salesman off. This is just a small part of the book – it's full of many more hilarious gags.
Cosmic is an all round lover and a must keep (shame I got my copy from a library).  It appeals to childen of all ages as long as they're used to quite thick books. I give Cosmic 9/10, a brilliant read.
……………………………………………………………………………………………………………
The Cat Mummy | Jacqueline Wilson

Reviewed by Charlotte Lightwood, aged 9
The Cat Mummy is my favourite book.  It is about a little girl called Verity and a cat called Mabel.
One day Mabel disappears and everyone looked for her.  At school Verity was learning about the Egyptians , so she was taught about the mummies.  The same night Verity found Mabel in her wardrobe dead, so she did what she was taught in school and turned Mabel into a mummy!
I enjoyed this book very much and didn't want to put it down.  It created a picture in my head.  It was funny and enjoyable.  Well done Jacqueline Wilson, well done.